Damdama Lake
Book Now
Damdama Lake Near Delhi
Damdama Lake is well known & popular weekend getaway destination from Delhi , Gurgaon and Noida , Damdama's serene gray-green lake disappearing into a cluster of hazy hillocks, a fairy-castle-like tourist complex glistening in the sunshine, and carpet of star-like flowers dotting the lake-this is what Damdama, a picturesque resort just 64 kilometers from Delhi, is all about. The Damdama Resort Damdama that stands on the bank is a neat little place with tastefully done-up Cottages,The colorful camping tents pitched on green slopes nearby are particularly charming.
The Damdama Lake recedes in winter reaching its lowest ebb in the summer. During the rains its level shoots up dramatically, reaching 50 to 60 feet in places and covering about 6 kilometers all round. The lake covers and area of about 5½ acres, though the exact area of Damdama is difficult to gauge because its numerous amoeba-like arms expand and contract unexpectedly, lending a new dimension to the lake almost everyday.
Damdama Resort at Damdama Lake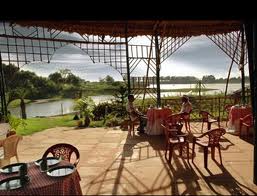 Damdama Resort is an island in the Damdama Lake less then an hour's drive from Delhi and only 30 minutes from the airport. The Resort has 4 ethnically village style independent cottages & 5 hut style rooms with modern luxuries- all facing the beautiful environs of Damdama Lake. Only reached by boats, activities here include Boat Rowing, Fishing, Bird Watching, Nature Walks in the nearby Aravali mountain ranges, rock climbing. Ideal for training program, leisure retreat and weekend breaks. You will love the swinging Burma Bridge and the some other excitine Adventure Activities.
A smooth blend of comfort and nature where you naturally revel in its richness and relax in its serenity. Tune your body and free your spirit at Damdama. Peaceful and eco friendly, it encourages people to live in harmony with the environment. In the tranquil surroundings of the Damdama lake, framed by forests, wildlife, bird life and the Aravalli ranges, Dream Island captivates the romantic and releases the adventurer in you.
There is never a dull moment here, not even when the sun goes down. In fact, the real fun begins when dusk brings in a subtle change of mood around a bonfire at the lakeside. A perfect time for socializing perhaps with light and soothing music. So take a break from the noise and pollution of Delhi to refresh and rejuvenate. See that flush back on your children's faces as they ride, boat, trek and breathe the clear fresh air, only an hour away from Delhi. On the whole, have a whale of a time.
Facilities at Damdama Resort Damdama Lake
9 ethnic cottages and we can provide Alpine Tents with western Toilets
Fishing
Volleyball
Recreational Area for Children
Bonfire
Barbecue
Cocktails
Gala Dinner
Army Obstacle Course at Damdama Lake
Rope Burma Bridge
Monkey Crawls
Zig-Zag Beams
One 25 ft. high Machaan for observation and relaxation
Lakeside barbecue and dance floor
Quiet Retreat just to Relax and and Rejuvenate
Adventure Activities at Damdama Lake
Artificial Wall Climbing
Jungle and mountain Treks
Fishing & Cooking
Nature Walks
Day Picnics
Weekend Short and Long Getaways
Major & Minor Adventure Activities
Gala evenings or dinners just before Departure
Road Map to Reach Damdama Lake
Delhi > Dhaula Kuan > International Airport > Gurgaon > Iffco Chowk > Rajeev Chowk (Exit 10) > Left Turn > Sohna Road >14 Kms approx Bhondasi, Left Turn [ Damdama Tourist Complex Road ] 10 Kms Approx > Left Turn> Damdama Lake.