Sohna Hills
Book Now
Sohna Hills Near Delhi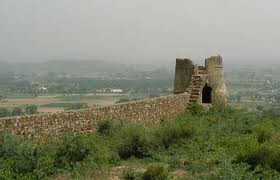 Sohna hills is one of the must see excursions around Delhi. A place where gold dust flows in water, where sulphur springs cure diseases, a tiny hamlet surrounded by pleasant little hills and inhabited by peacocks. This is not a setting for a fairy tale, but a picturesque holiday doubling up as health hotel, a place called Sohna Hills. A decaying fortress adds to its charm by reminding everyone of its warrior heritage. It is believed that in ancient times gold dust used to flow in the spring water streams along the banks. This is how the place got its name of Sohna, derived from 'sona' meaning gold. Sohna hill is situated near Damdama Lake and lies atop the Aravalli hills.
Sohna hills is a one of the best place to spend weekends near Delhi as it provides some peace and is a perfect place to get some break from the routine stressful life of cities.
Location of Sohna Hills
Sohna Hills is located in Haryana, about 15 kms from Gurgaon and approximately 60 kms from Delhi.
Beauty of Sohna Hills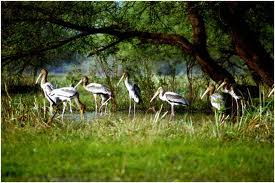 Sohna Hills is a fitting place to take a mini holiday, far from the ever growing mass of people. The nighttime here won't make you miss any city nightlife. The glittering illumination from the settlement seems like a tiara on the charcoal black streams. The place is so natural that it seems the area is untouched by industrialization.
Peace and serenity abound at Sohna hills. Peacock sounds makes the morning thrilled. Temple bells of Sohna town fascinate and devout the tourist alike. The best thing for what Sohna hills is known for is its Sulphur springs. These Sulphur springs are main attraction of Sohna hills. These sulphur springs is said to have some medicinal value. The teperature of Sulphur springs at Sohna hills ranges between 46 degree C to 52 degree C and is said to be beneficial for many skin diseases.
The Curative Springs
The springs or rivulets in Sohna have sulphur which acts as a medicine to various stress related ailments. The springs are located at the feet of a perpendicular rock, capped by a dome believed to have been built in the 14th century chieftains. The medicinal properties are tapped in the local spa and a temperature range of 46.1OC to 51.70C is maintained. The spa compound with sauna, sulphur and steam bath amenities for a traveler is positioned up on the hill. The water emitted from a fresco fills the small swimming pool.
Facility to Stay at Sohna Hills
Sohna hills have some health related importance due to its Sulphur springs. If you want to spend some time for your health cum enjoyment and want to know where to stay at Sohna hills then, there is a health cum holiday resort at Sohna hills, near Delhi. The resort is on the top of Aravalli hills and offers an exciting view of the landscape below. On the adjacent of the hills there is a ruined fortress having stronghold of the local chieftains.
Sohna hills resort have spa complex with sauna. There is sulphur and steam bath available for tourist which gives a perfect texture to skin. There is also a swimming pool with water released from wall murals thus having medicinal value and skin friendly and skin protective.
How to reach
Best way to go to Sohna hills from Delhi to book a car. There are many agencies for car rentals at Delhi. You can start early morning at 4.00 AM or 4.30 AM from Delhi and can be back at night. If anyone wants to stay at resort, it wills a further enjoyment.