Church Sacred Heart Cathedral
Book Now
Sacred Heart Cathedral Church in Delhi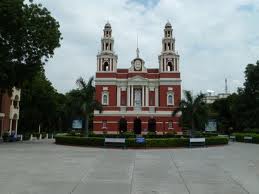 The Cathedral of the Sacred Heart is a Roman Catholic cathedral and one of the oldest church buildings in New Delhi, India. Together with St. Columba's School, and the Convent of Jesus and Mary school, it occupies a total area of 14 acres near the south end of Bhai vir singh Marg Road in Connaught Place. Christian religious services are held throughout the year.
History of Sacred Heart Cathedral
Father Luke, a member of the Franciscan first order, founded by St. Francis of Assisi, took the initiative to build the church, and the Archbishop of Agra in 1929 Rev. Dr. E.Vanni laid the foundation stone in 1929 and construction began in 1930. Sir Anthony de Mello donated the main Altar of the Church, which is made of pure marble. The Archbishop of Agra presented a bell, vestments and altar furniture. The project was financed by the colonial officers of the British Empire.
Architecture of Sacred Heart Cathedral
The church building was designed by British architect Henry Medd, and is based on Italian architecture. A facade of white pillars supports the canopy, and on each side of the cathedral's entrance porch, there are circular arcaded turrets rising above the roof. The interior has a towering curved roof, polished stone floors and broad arches.
Services & Celebrations at Sacred Heart Cathedral
The Cathedral organizes functions on certain days of the year. Prayers are held in the morning and evening every day. The major ceremonies held at the Cathedral are Easter and Christmas. The most important of the festivities during Christmas is the Feast of the Holy Family of Nazareth and the Christmas Vigil Service an hour before midnight Christmas Eve. Various cultural and social programs are also organized throughout the year.
Nearby Tourist Attractions at Sacred Heart Cathedral Church
Rashtrapati Bhawan, India Gate, Jantar Mantar, Gurudwara Bangla Sahib, Hanuman Mandir are the very nearest tourist attractions from the Sacred Heart Cathedral Church Delhi.
More Tourist Information
Location: 0.5 Kilometers from Connaught Place, near Gol Dak Khana, New Delhi on the roundabout where Ashoka Road meets Baba Kharak Singh Marg
Famous as: Main Catholic Church
Time to Visit: Open on all days
Preferred timings: During the morning and evening during prayer services.
Entry Fee : Free and open to all.
How to Reach: Tourists can either take local buses from various points within the city to reach this sacred monument, which is located near the Connaught Place (CP), the heart of the city, or they can hire auto-rickshaws and taxis or metro. From CP one can take a stroll to this sacred site.
Photography charges: Nil (permission required)
Nearest Railway Station: New Delhi Railway Station
Nearest Metro Station: Central Secretariat
Functional Metro Station: Central Secretariat
Nearest International Airport: Indira Gandhi International Airport
Time required for sightseeing: 1 hour