Abhaneri
Book Now
Abhaneri Near Jaipur
Abhaneri is an ancient village in Rajasthan, known for its amazing ' Baoris' (step wells) and Harshat Mata Temple. The village is called Abhaneri because the Harshat Mata who is shown portrayed in a joyous mood is believed to spread brightness or "abha" all around. Abhaneri is said to have been founded by the legendary king, Raja Chand. As per local beliefs, Raja Chand was actually Raja Bhoja who ruled over the Gurjar kingdom in the 9th century AD..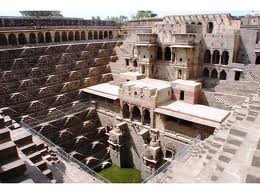 The natives of Abhaneri invented the unique style of Step wells. These reservoirs were used for storing rainwater in parched days. Abhaneri is also renowned for its post gupta or early medieval monuments. The village has contributed numerous pieces of sculpture to the museums all across the globe.
Abhaneri- A Shopping Paradise
Abhaneri provides little shopping opportunities. Jaipur, which is 95km from Abhaneri, is a shopper's paradise. The lively markets of Jaipur are the best place to buy kundan and minakari jwellery, beautiful gems, semi precious stones, Kota Doria Saris, blue pottery, enamelware and brassware, woolen carpets, embroidered jutis and marble idols of gods and goddesses.
Attractions of Abhaneri
Chand Baori
Raised during the10th century, Chand Baori is a huge colossal step well located in front of Harshat Mata temple. The intricate carvings add to the beauty of this magnificent baori. It is one of India's deepest and largest steps well.
Harshat Mata Temple
The famous Harshad Mata temple was built during 7th-8th century A.D. The temple has amazing architecture and astounding sculptural styles that belong to the medieval India. It is dedicated to Harshad Mata who is considered as the goddess of joy and happiness. An annual fair is organized in honor of the deity that lasts for three days. Numerous devotees and merchants gather from neighboring villages to attend prayers and to be the part of this grand affair.
More Info
Excursions - Dausa (25km), Bairath (86km from Jaipur)
Best Time to Visit - October to March
Fairs and Festivals - An annual fair is organized in Abhaneri in honor of Harshat Mata, which continues for three days. Hordes of tourists participate in this fair annually.
How to reach
By Air: Nearest airport is Sanganer Airport at Jaipur, which is about 90km away.
By Rail: Nearest railhead from Abhaneri is Dausa.
By Road: One can reach Abhaneri by road and buses are available to Abhaneri from Jaipur or Agra.