Jaigarh Fort
Book Now
Jaigarh Fort in Jaipur
The Jaigarh Fort or the Victory Fort is one of the most spectacular of the three forts overlooking the pink city of Jaipur. What adds to the charm of this Royal fort is that, it has most of its original facilities still intact.
History Of Jaigarh Fort
The history of Jaigarh Fort dates back to the year 1726, when it was built by Maharaja Jai Singh, to serve as a defense ring for the cities of Jaipur & Amber. This is one big reason for the fort to be least artistic unlike most other forts & palaces of Jaipur. A full fledged citadel, the Jaigarh Fort was once the epicenter of artillery production for the Royal Rajputs. Besides, it also served as the treasury for the famous Kacchawahas.
Attractions of Jaigarh Fort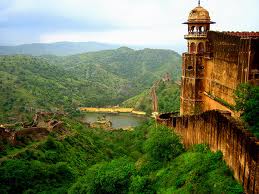 Built chiefly to serve as a defense, the Jaigarh Fort houses numerous interesting structures & artillery like the famous Jaivana, world's largest cannon on wheels & Jaigarh's chief attraction. The Jaivana has wheels 9 feet in diameter & a 20 foot long barrel. Jaigarh is a great exemplary of the architectural excellence of the former ages. This is evident through the many wide water channels housed in the fort that were possibly part of a magnificent rainwater harvesting system. Also housed are 3 underground tanks, the largest of which has a capacity to store 60,00,000 gallons of water.
A closer feel of the fort's royalty can be felt at the fort museum featuring remarkable collections like, photographs of Maharajas, coins, royal possessions & unique antiques like a circular pack of cards. Yet another attraction is the armory that displays a majestic collection of swords, muskets, shields & a 50kg cannon ball. The Jaigarh Fort with its unmatched charm & attractions is truly a haven for tourists interested in exploring the royal heritage of India.
Location of Jaigarh Fort
The imposing Jaigarh Fort stands high atop a hill called "Cheel ka Teela" (Hill of Eagles) located at a distance of 15 km from Jaipur. The fort stands at a height of nearly 400 feet above the famous Amber Fort with the two forts well connected through guarded passages.
Timings and Entry Fee:
Entry Fee: Free if you have a ticket to Jaipur's City Palace
Timings: Daily from 9 am to 5 pm