Gaitore
Book Now
Gaitore in Jaipur
Gaitore is the name of a majestic cremation ground where the bodies of kings were buried. In the memory of every king a cenotaph was constructed. These royal cenotaphs of the Maharajas are commonly known as `Chhatris`. The royal chhatris are engraved with typical Rajasthani carvings. Gaitore is regarded to be the mispronounced form of a Hindi phrase `Gaye ka Thor` which means `resting place of the departed souls`.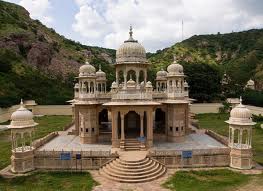 History of Gaitore
Most of the Kachhawaha rulers of Jaipur have their mortal remain here from the time of Maharaja Sawai Jai Singh II, the founder of Jaipur. One exception to this is the cenotaph of Maharaja Sawai Ishwari Singh, who was cremated in the City Palace complex and his cenotaph is located behind the Chandra Mahal in the complex. The Cenotaphs, built in the honor of Maharanis of Jaipur, are at Maharani Ki Chhatris complex close to Ramgarh road crossing.
Architecture of Gaitore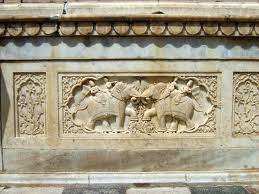 It is situated 15 km. from Jaipur, Gaitor is a historical place, popular for the cenotaphs or chhatris of Jaipur rulers. The cenotaph of Maharaja Sawai Jai Singh II , a white marble structure, is the finest tourist spot of Jaipur . The Cenotaph is decorated with carved peacocks. Next to the cenotaph, is the Water palace or Jal Mahal constructed by Sawai Madho Singh is an enchanting spot. At the centre of the Man Sagar lake, you will be able to see the Kanak Vrindavan, a complex of temples and gardens, recently converted to it's ancient glory. This complex is a famous section for picnic and film shooting. To the west of this road, in a narrow valley, is the royal cremation ground at Gaitor. The cenotaphs of the Maharanis of Jaipur are located on Amber Road, very close is the Jal Mahal, a lake palace, which was the summer resort of the royal Rajput family.
Attractions of Gaitor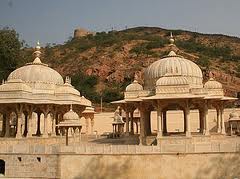 You can reach the exotic Garh Ganesh temple, by a series of paved steps of abnormal height made in the body of fortification outside the gate. At the corner and entrance from front side of the gate, stands a small temple of Ganesh containing of only a sanctum and a doorway, the former being bounded by a pyramidal roof and later by the squat dome. The best period to explore the endearing abode is during the rainy season. These season are the best for paying homage to the God Ganesh of and for enjoying the delightful and picturesque scenery.
More Info
Place: Gaitor, 15 km. from Jaipur,(on the road to Amer) Rajasthan
Best time to visit: October to March
Temple: Garh Ganesh
Nearest Airport: Sanganer Airport - Jaipur (domestic flights)
Location: 15 kms from Jaipur, lies in west of Amber Highlights: Cenotaphs with typical Rajasthani Carvings
How to reach: One can easily reach Gaitore from the city by taking local Buses, Rickshaws and Taxis