Mughal Garden
Book Now
Mughal Garden in Delhi
Mughal Gardens are a group of gardens built by the Mughals in the Islamic style of architecture. This style was heavily influenced by the Persian gardens particularly the Charbagh structure. Significant use of rectilinear layouts is made within the walled enclosures. Some of the typical features include pools, fountains and canals inside the gardens.
Architecture of Mughal Garden
Mughal Garden is one of the most significant historical gardens in Delhi. It is located inside the Rashtrapati Bhawan Complex. Mughal Garden is famous for the wide variety of flowers, some of which are rare and extinct. Mughal Garden in Delhi is spread over an area of 13 acres and is a combination of the former Mughal style with that of the British style. Mughal Garden is designed by Sir Edwin Lutynes for Lady Harding. Mughal Garden is a British garden inspired by the Mughal style and that is why you can come across some Mughal style canals, fountains and terraces. Mughal Garden is divided into 3 sections - rectangular, long and circular gardens also known as Pearl garden, Butterfly garden and Circular garden.
Mughal Garden has 4 waterways with a lotus-shaped red sandstone made fountain at their intersection. The whole Mughal Garden is a place of scenic beauty. You cannot take off your eyes away from its lush greenery. Moreover, the colorful flowers adds up to the pleasure of your eyes. Mughal Garden is distinct from other gardens in the sense that it comprises of a large variety of trees and flowers such as marigold, rose, bougainvillea, sweet william, viscaria, etc. Mughal Garden is open for public visit only in the months of February and March when the flowers are in their full bloom.
Floral Carpets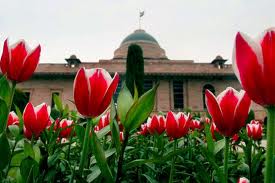 Referring to the arrangements, an official from the Horticulture section of the President's Estate said: "This year we decided to try the floral carpets as it is both economical as well as beautiful. Floral carpet design is a manifestation of imagination and skill of the gardeners. It can be used to decorate homes, offices and also functions."
A new Bonsai Garden has also been established to enrich the variety of collections and styles with about 200 Bonsai plants. A cactus corner has also been created. Self Help Groups (SHGs) set up to make the Estate an eco-friendly sustainable urban habitat will put up a stall for the sale of vermi-compost and organic compost manure, which are manufactured inside the Estate. There will also be a curio shop with different kinds of Rashtrapati Bhavan souvenirs for sale. Organically grown winter season vegetables will also be on display.
Other Gardens
Visitors will be able to see different varieties of ornamental and medicinal plants at the Musical Garden, Spiritual Garden, Herbal Garden, Bonsai Garden and the Bio-diversity Park. The view promises floral carpets, the cactus corner and bonsais as its special attractions.
Timings and Location
Timings: 9.30am to 2.30pm, barring all Monday.
Location: It is located inside the Rashtrapati Bhawan Complex.