Jaipur Excursions
Book Now
Tourist Places Near Jaipur
Whether you are an art lover, adventure lover or lover of contemporary as well as traditional thoughts and cultures, India is the only place that explores every form for you. It is jam-packed with every type of travel and tourism places that can actually make your vacations astonishing and improve your awareness on history of India as well. Rajasthan, a place of royalty and culture is amongst the most alluring visitors point for both domestic and international tourists. It had flawlessly maintained the history of Kings and Queens of Rajasthan from decades.
Rajasthan itself means place of Kings "Raja ka Sthan". It brings out every famous as well as usual tradition of Rajasthan and its glorious history. There are ample of live as well as magnetic places that help in unfolding this place more brilliantly in front of visitors. Amongst these places Jaipur is the one which is synonymous of royalty and beauty both. This pink city of India has many wonderful destinations to visit. Additionally, it also has many other alluring tourist places around it that hold the interest of thousand and thousand of visitors across the world. With every passing day Jaipur Excursions are becoming the most satisfying place for tourists due to various options to visit and great services. These Jaipur Excursions (Tourist Places near Jaipur) includes numerous attractive places like; temples, historical monuments, palaces, museums, lakes, parks and lists go on. These places not only depict the colorful history of Rajasthan but also bring out the marvelous heritage of the Royal city.
These places also portray the detailed history of Indian ruler in past what was their way of living, how they maintain their livelihood and kingdom, every thing is perfectly maintained by government and natives of this place. Some of these are Abhaneri, Bagru, Bairath, Karauli, Ramgarh, Ranthambore National Park, Sariska National Park, Samode, Sanganer and Tonk.
List of Jaipur nearby Tourist Places
Abhaneri- A small town located 95Km from Jaipur was believed to be established by the King Raja Chand.Abhaneri was named as Abha Nagri, which means the city of brightness. This place is famous for its amazing 'Baoris' (step wells that was built in the 9th century and has 3500 narrow steps in 13 stories and is 100 feet deep and beautiful ancient carving can be seen in its architecture.) and Harshat Mata Temple which is considered to be the goddess of joy and happiness. Abhaneri has a glorious past and amazing architecture of tis place attracts tourists to its threshold, from all over the world.
Bagru- This is also one of the most famous destinations on Jaipur-Ajmer Road 30 km from Jaipur, which is popular for its wooden prints. Tourists take these prints as the most memorable and durable thing to carry with them, these prints are also named as Bagru prints.Bagru artisans have kept alive this ancient three-centuries-old tradition of block printing. Bagru prints are famous for their exceptional quality of being eco-friendly.
Bairath- This place has its own historical importance in tradition and culture of Rajasthan. It is believed that the
existence of Bairath from the times of Mahabharata. Its beauty is being maintained by its natives till date.It is believed that pandava spent one year of their exile in this place. The Bhim-ki-Dungiri or Pandu hill is a low rocky hill. A large cave on this hill is considered to be Bhim's abode. Bairath also has relics of the Mauryan, Mughal and Rajput periods. There are various antique places and monuments here like ashokan inscription, the monastery and the circular temple.
Karauli- Karauli is a small village, located in outer circle of Jaipur,a remote ancient town, a devotional city, a blend
of warm royal hospitality, a serene rural environment . This place gained popularity for its Madan Mohanji Temple, dedicated to Lord Krishna. There is another famous temple of Kaila Devi Temple, popularily known as Mahalakshmi. The Fair in this temple hold an importance in the fairs of Rajasthan.The fair is held at the village of Kaila in Karauli dist in the month of Chaitra.
Ramgarh- This place is famous for its huge artificial lake which is been shaped by raising a high bund amidst the hills covered with trees.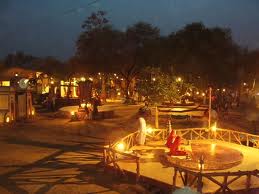 Chokhi Dhani - Chokhi Dhani (Fine Hamlet in Rajasthani dialect) is a 5 star ethnic resort. It is located on Jaipur-Tonk highway, around 18 km from city center that represents culture, traditions and lifestyle of village life in Rajasthan. There are lodging facilities available but the real attraction is the evening fun-fares. One can watch live folk dances and listen to live folk music for free, and enjoy elephant, camel, bullock cart rides for Rs. 20-30 per ride and eat a traditional, vegetarian eat-as-much-as-you-can meal for Rs. 350.
Bhandarej, Is a little known town 62 km from Jaipur off Jaipur-Agra Highway, from the times of the Mahabharat.
In addition, there are many other places located in outer circle of Jaipur that are becoming alluring tourist's places for visitors. And to make it more alluring Jaipur hubs are trying their best to entertain visitors at every possible time.