Agra Places to See
Book Now
Agra Sightseeing
It is said that journey is more beautiful than destination and if the journey is towards the most romantic city like Agra then what else to say. Agra is amongst the most admirable spot for travel and tourism. It is said that if you came to India and didn't visit Agra then your trip is incomplete. The aura of love, mixed culture of Mughals and Aryans, marvelous architectures and colorful markets present the lively lifestyle of Agra. It is also being considered as the dreamiest town of India that has witnessed the long history of northern India.
There are many places to be seen in Agra but still some tourists places make it stand in special queue. Taj Mahal, Agra Fort, Fatehpur Sikri, Itmad - Ud Daula, Sikandara and the list goes on. The tourist places like; Taj Mahal, Agra Fort, Fatehpur Sikri not only make the natives of Agra feel proud on them but also make every Indian undergo the sense of proud, as they are lying in the lap of UNESCO World Heritage sites.
List of Places to See in Agra
Taj Mahal: The magnificent structure of Taj is the symbol of eternal love of Emperor Shahjahan for his prettiest better half Empress Mumtaz Mahal. The romantic truth of this Mughali architecture not only attracts couple but people of different age groups as well. Without a doubt, Taj is the most sought after memorial in the Indian history. The amazing history of this ideal craftsmanship took labor of 20,000 workers and 10 years of the perfection. Vacationers and tourists from different niche of the world love to view the superb beauty of Taj Mahal.
Agra Fort: This historical monument was being designed by Emperor Akbar in 1565 A.D. Inside this fort there are many well-designed buildings that reflect the historical value and life of Mughali kingdom. These creations include; the Moti Masjid, Diwane-I-Aam, Diwani-I-Khas and musanman Burj.
Chini Ka Roza: This tomb was being designed for Afzal Khan, the Persian poet cum minister at Shah Jehan's court. The inner and outer decoration of this tomb is being done with bright colors of dazzling architecture.
Fatehpur Sikri: This monument is being designed with specially imported red sandstone, it is an impressive gateway, style and light- hearted to view to entertain visitors. It was also being used for game purposes for Akbar's queens - Jodha Bai and Mariyam.
Itmad - Ud Daula: This architecture is being designed as a commemorative to her father Mirza Ghiyas Beg, is wonderfully adorned with pietra dura inserted and patterned with marble work screens. This monument is amongst the finest creations of Mughals in northern India.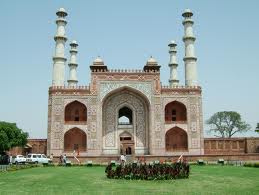 Sikandra: (10 km north of Agra on the Agra Delhi highway). Open from sunrise to sunset. The tomb of Akbar lies here in the centre of the large garden. Akbar started its construction himself but it was completed by his son Jehangir, who significantly modified the original plans which accounts for the somewhat cluttered architectural lines of the tomb. Four red sandstone gates lead to the tomb complex: one is Muslim, one Hindu, one Christian, and one is Akbar's patent mixture.
Mariam's Tomb, (West from Akbar's Tomb on Agra-Delhi highway). Constructed by Jahangir in the memory of his mother Mariam Zammani a title bestowed upon her,. The grave is made of white marble. Though this building is in a ruined condition, yet it has in its vicinity, a Christian Mission School and a church. It is also said; Akbar himself made that it in the memory of his Christian wife.
Jama Masjid: A large mosque attributed to Princess Jahanara Begum, built in 1648 during the reign of the father Shah Jahan. Notable for its unusual dome and absence of minarets.
Gurudwara Guru ka Taal, (at Delhi-Agra Highway, located between Transport Nagar and Sikandra),
Gardens in Agra
Soami Bagh, - (10 km north of Agra). The white marble samadhi of the Radha Swami religion is currently under construction. It was started in 1904 and is not expected to be completed until sometime next century. You can see pietra dura inlaid marblework actulally being worked on. Soami Bagh is 2km north of Agra and can be reached by bus or cycle.
Ram Bagh - The first Mughal gardens, built by the first Mughal Emperor Babar, 500 m North of the Chini Ka Rauza.
Mehtab Bagh, - (directly across the Yamuna River from the Taj Mahal, the trip takes about 30 minutes from the centre of town by autorickshaw and will cost about Rs 200). These botanical gardens give you an opportunity to view the Taj Mahal at a remove from the crowds of tourists. Alternatively, walk past the entrance and straight to the sandy banks of the river: the view of the Taj is every bit as lovely (perhaps more so, since the barbed wire fence surrounding the gardens will be behind you), although you may have to deal with aggressive touts. Don't forget to take a round trip by auto rickshaw. Entrance to the park is Rs 100 for foreigners.
Temples in Agra
If you are fond of traveling and ready to devote your each hour in making your journey the most memorable one then Agra gives you bunch of options. This is the place that is being considered as the richest place of historical monuments throughout the India. So, enjoy your vacation at full gusto after visiting there.